History
---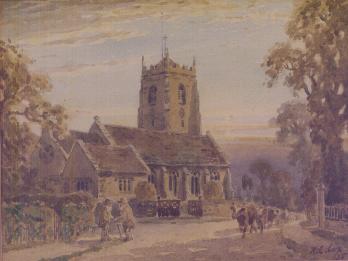 A chapel and more than half the land in Lillington parish were granted to the monks of Kenilworth in 1121 to endow their new Priory with an income. By about 1350 this chapel is thought to have developed into a church with chancel, nave and south aisle. The south wall of the present chancel survives from this building. The west tower was added around 1480. A bell dedicated to St Katharine at this time still hangs in the tower today.
When Kenilworth Priory was dissolved in 1538, the manor came into secular ownership, held by the Puckering family, then Wise, and finally Waller, who sold the last of their Lillington land in the 1920's.
By the 19th century, the growth of the Spa at Leamington was bringing increased population to the Kenilworth Road area of Lillington. The church was first enlarged by the addition of a north aisle in 1847. In 1858 the small south chapel was lengthened to form a narrow south aisle. Ten years later in 1868 the old south aisle was demolished, and the present wider aisle and south porch built. Dormer windows were added to the nave roof in 1875 to provide ventilation. Then in 1884 the chancel was extended, and an organ chamber and vestry added. With the addition of a choir vestry in 1914, the exterior of the church achieved the appearance it has today.
In 1897 the church clock was installed. The bells were augmented to a full octave in 1927. A new organ at the west end of the nave was given in 1936, at which time the former organ chamber north of the chancel was adapted to become the present Lady Chapel.

The reredos above the high altar depicting the Last Supper was purchased by public subscription in 1890. A robed choir first sang in the chancel in 1900 - the present choir stalls date from 1908.

New oak flooring and pews in the nave and aisles were installed in 1925. A new pulpit was given to the church in 1940, replacing the Victorian stone pulpit.
A useful addition in 1987 was an octagonal church room built close to the main door of the church.

What of those who have worshipped here? Since the installation of the first Vicar in 1252, forty-seven incumbents have come and gone, all doubtless leaving their mark on the Parish and its parishioners. The Parish Registers going back to 1539 record times of joy and of sorrow for many, while countless more will have come into church to worship God throughout the centuries; long may they continue to do so.
The Revd Dennis Brown's book, The History of Lillington Church, is available from the Church Office.
Copyright (c)2012 lillingtonparishchurch.org & JustHost.com