JW Greaves, Slate and the Festiniog Railway
---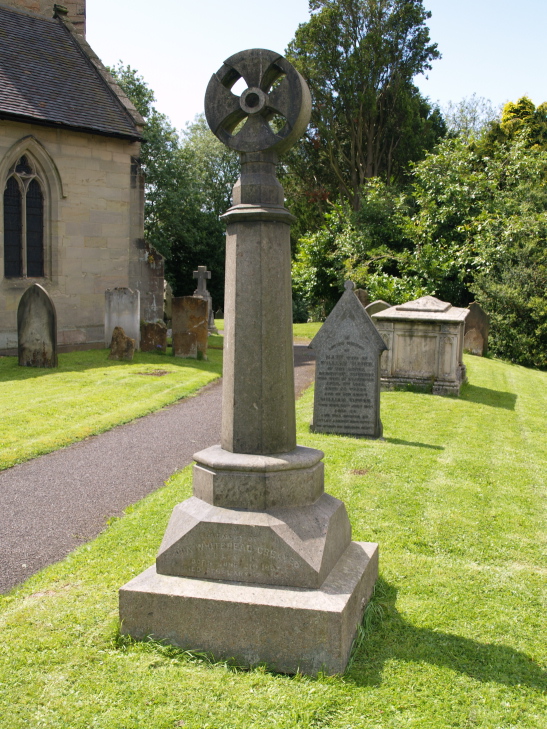 The Greaves Monument, Lillington churchyard
John Whitehead Greaves and his wife Ellen are buried on the North side of the church. John Whitehead Greaves was born in 1807, the son of John Greaves and his wife Mary (nee Whitehead) who lived at Radford Semele. Both were members of banking families. While his older brothers went into the family business, John was advised to seek his fortune in Canada. In 1830 JW Greaves arrived in Caernarvon where transatlantic passages were readily available with to the merchant ships taking slate to North America. JW Greaves did not set sail but instead was attracted to the prospects of slate quarrying. In 1834, he and a business partner, Edwin Shelton, took on the exploration of slate quarry at Glynrhonwy, Llanberis, which had just bankrupted the previous lessee. The business was successful, and JW Greaves looked for further ventures to make his fortune.
In 1836 the Ffestiniog railway opened to carry slates from Blaenau Ffestiniog to Porthmadoc. It began operation using gravity and horses to move the slate wagons (steam engines were not introduced until 1863). Despite initially resisting the railway tariffs, JW Greaves eventually decided to send his slates by rail, and became treasurer of the Ffestiniog Railway(1843-47, 1856-68), and its Chairman (1844-48, 1850-57). In 1843 he married Ellen Stedman of Pakenham, Suffolk.
By 1840, Greaves and Shelton were dissatisfied with the rent and royalty payments they were making to the landowner of Glynrhonwy, and by 1843 he was convinced that there were vast quantities of quality slate buried at Llechwedd, Blaenau Ffestiniog. It took a further 3 years to gain access to the site, and by 1849 and £25,000 later he still hadn't located the slate. The banks refused to lend any more money. His miners were thus laid off, but two mining families shared his view and worked for no pay whilst they still had gunpowder and fuses left. A few weeks later they at last found a vast slate vein 60 feet below ground. In recognition of their loyalty, the two mining families were given rent-free accommodation and the promise of employment for themselves and their descendents, one which is still being honoured. Within a year the quarry mine had produced 1,128 tons of finished roofing slates with a value of £2,114.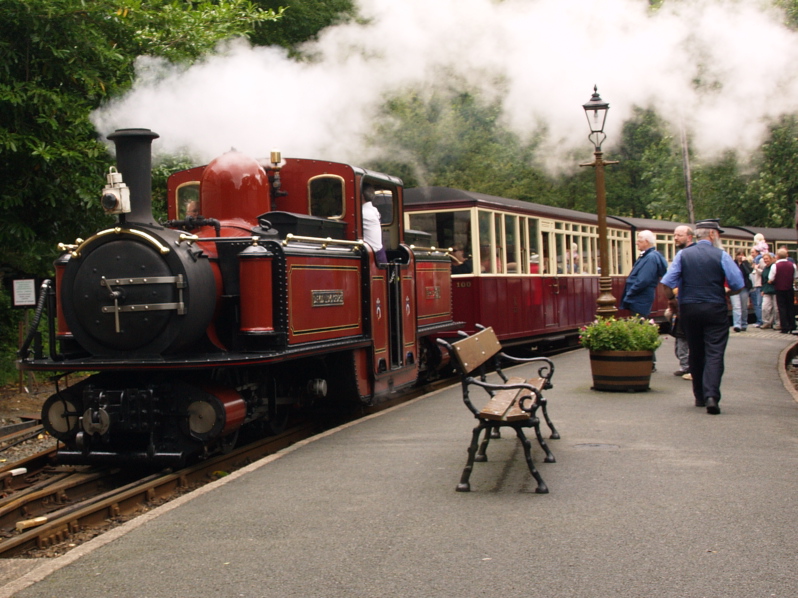 Double Fairlie Engine "David Lloyd George", Tan-y-bwlch Station, Ffestiniog Railway
In 1851 JW Greaves exhibited his slates at the Great Exhibition and won the first of many prizes. In 1852, he built facilities for producing slate slabs for products such as billiard tables, steps, hearths, windowsills, kitchen surfaces, sanitary installations and industrial chemical plant. That year he supplied roofing slates for Kensington Palace. In subsequent years, more rich slate veins were discovered at Llechwedd.
In 1870, JW Greaves indicated that he would be retiring to his native Warwickshire, to Bericote House which he had built at Bericote, within the parish of Lillington. He was a very wealthy man with many achievements to his name. He was a JP and Deputy Lieutenant of Meirionydd. One of his sons, John Ernest Greaves, took over the running of the company. John Whitehead Greaves died at Brighton on 12th of February 1880, having been in poor health following a horse-riding accident the previous autumn. He was buried at St Mary Magdelene's.
Amongst his achievements was the invention of a slate-sawing machine and the rotary slate-dressing machine, the basic design of the latter still being used today. The family firm still exists and produces slate products at Llechwedd as well as providing an impressive visitor attraction.
The Greaves family has several famous and august members, including Robert Baden-Powell and Sir Bertram Clough Williams-Ellis, architect of the village of Portmeirion. The following family tree shows some well-known local connections too.

Bibliography

The Eagles of Llechwedd, Ivor Wynne Jones, Llechwedd Publications 2004

Links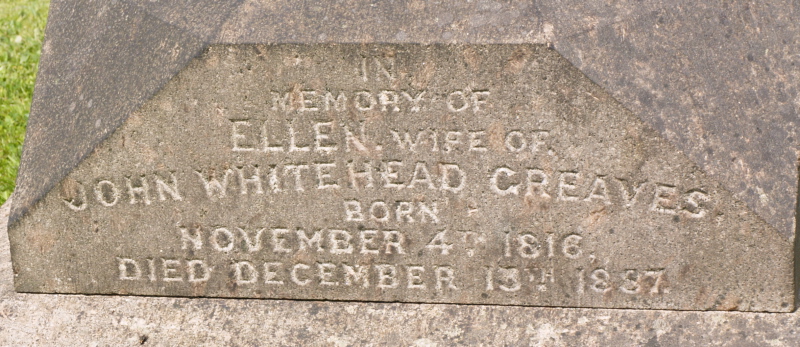 Inscriptions on the Greaves Monument